Vacuum elevators by PVE are surprisingly versatile and can be installed almost anywhere.
Install Your PVE In a Multi-Story Room
This is the most affordable and quickest type of vacuum elevator installation as minimal pre-construction is required.
A multi-story room may be a foyer or any open space to a loft or mezzanine floor. This type of elevator installation is called a balcony-mounted PVE application. The base is mounted to your first floor and then the modular units are stacked and attached the upper floor(s). The only other construction required is to create landings that cover the space between the elevator unit and the upper floor's surface.
Vacuum Elevators Fit Well in an Open Stairwell
Installing your PVE in an open stairwell is the same balcony-mounted application described above. If the stairwell is open, then it is basically a multi=story room. Often open stairwells' spaces are underutilized and mostly are part of the home's architecture. The PVE creates much-needed function in the unused space without affecting the overall architectural appeal of the open stairwell. In fact, many of our clients tell us the PVE adds luxury and style to their home.
Tuck Your Elevator Into a Corner
In many homes, there is an underutilized corner that is the perfect place for installing a vacuum elevator using our through-the floor application. This, of course, depends on how the rooms' architecture align between floors, but it is an affordable way to install your PVE in your home.
Though not as quick as the balcony-mounted application due to a hole being cut through the floors and finished using materials that match your home's current décor, it is still much faster than installing a traditional hydraulic or traction elevator that requires construction of a shaft and a pit.
In the Middle of a Room
Depending on your home's architecture, this may be either a balcony-mounted or a through-the-floor application. Our pneumatic elevators offer a wide variety of color selections for the glass and the frames so that you can match your home's style. So, you may want to show it off or make the elevator more convenient by placing it in the middle of a room.
In a Closet
Many homes built in the last couple of decades were built with closets that align between floors. This makes the installation of any elevator easy.
In the case of our PVE elevators, the through-floor installation is used to put your elevator in a out-of-the-way location. This is a preferred method when homeowners want to hide their PVE or where it is the best use of space.
In many cases, the PVE does not take up the entire closet leaving space for storage. But note the use of a closet minimizes the value of the panoramic glass elevator.
Put Your Home Elevator On the Porch
Some homeowners opt to install their vacuum elevator on a porch. If the space outside the home's interior is already enclosed such as a sun room created from what may have previously been an exterior space, the installation is the same as with any interior installation. But, if the installation is in an outdoor area such as on a 2-story entry porch, an additional enclosure must be constructed. This will add cost and the project timeline, but may be the best choice for how you use your home.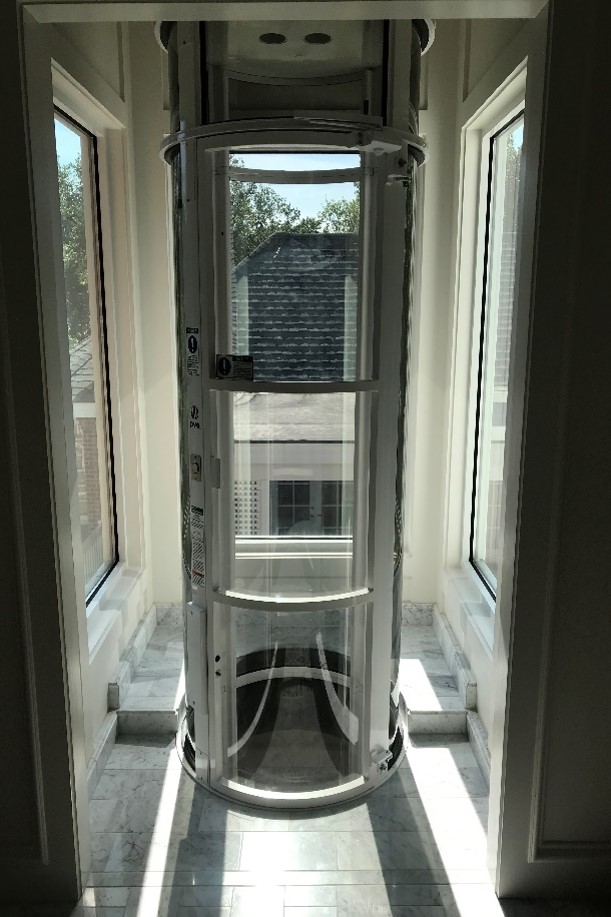 Elevators Perched on Exterior Decks
To provide mobility from one exterior level to another which is common in the Texas Hill Country, our pneumatic vacuum elevators can be installed to provide mobility and convenience when installed in a weather-resistant structure.
Home Elevator in a Turret...if you own a castle!
If you have a chateau with an available turret, you can install your PVE in there. All joking aside, we were honored to have our PVE be featured in the series Escape to the Chateau.
Have More Questions?
Our Austin-based Certified Aging-in-Place (CAPS) specialists look forward to visiting with you in your home to provide you with a free, detailed, no-obligation quote as well as answer all your questions about how a vacuum elevator will fit in your home and serve your mobility needs.
Jay, thank you for the immediate service response for our elevator. Josh did an excellent job and was a fine representative of your company. Needless to say, Brad is always super. When we first started our business relationship, I told you a main factor for my selecting your company was the professional manner displayed by you and your staff. Using your services in my own home was just another example of that professionalism. The result is that my wife can once again go downstairs without fear of falling. Her Parkinson's Disease has progressed since you last saw her, and the elevator has been a blessing for her mobility.

Art B.